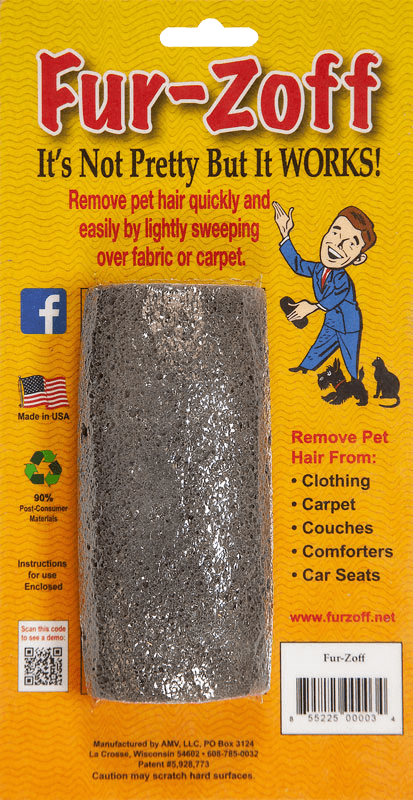 Fur-Zoff Pet Hair Remover
Fur-Zoff is More Effective, Durable, and Earth-Friendly than any other product for cleaning pet hair from the fabrics in your life. Learn More
Video Transcript
I bet you love spending quality time with your pets but do you want your pet spending time on your car's clothing and furniture we love our pets but the hair gets everywhere. Pets shedding on carpets and furniture can turn a clean home or car into a mess. But we have a solution to your hairy problem. Fur-Zoff is the most effective answer to removing pet hair from bedspreads and clothing to carpets and cloth car seats. It is so easy to use. All you do is lightly brush the Fur-Zoff over the item you want to clean. Use Fur-Zoff in a light sweeping motion to remove hair faster and more effectively than vacuums, sticky tapes, or rubber tools. "I run a k-9 search and rescue team and have the search dogs in my vehicle all the time. When I saw how fast and easily the furs off cleared the hair out of the back of my Suburban I just had to have one." Fur-Zoff is the tool to have when removing hair embedded in fabric of all kinds. Eliminating the fur is quick and easy plus Fur-Zoff is portable, lightweight and safe to use. After all, it was created to use on pets. Made from 90% recycled products, Fur-Zoff, is environmentally friendly too and it's cost effective. You don't have to continue buying all those tape rolls and you don't have to spend time washing or cleaning brushes or sponges. Fur-Zoff is a lifetime product that never runs out and never stops working. Keep Fidos' hair off your carpet, clothes, and out of your car.
Say "YES" to pets, and "NO" to pet hair…
Many people have accepted the idea that pet hair is just a part of being a pet owner, it's really their only downside.
Now with Furz-Off, it doesn't have to be that way.
Fur-Zoff is More Effective, Durable, and Earth-Friendly than any other product for cleaning pet hair from the fabrics in your life.
With a light sweeping motion, its unique rigid hair scaled texture removes hair from carpets and fabrics; in homes and vehicles; quickly and easily.
With nothing to plug in, wear out or replace, Fur-Zoff is the last product you will ever need to keep pet hair removal under control.
For $12.99, you can have one in your cleaning closet, too!
It's not pretty, but it works! 
Use Fur-Zoff On
Clothing
Furniture
Carpeting
Comforters, Pillows and Blankets
Car Seats and Floors
Pets and Pet Hair Anywhere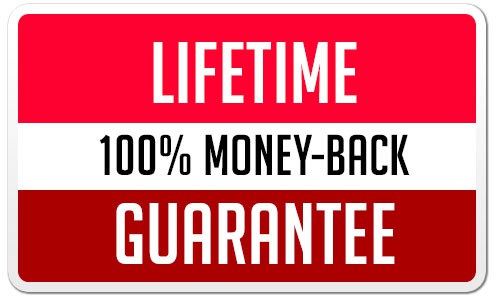 Lifetime Guarantee
Every Fur-Zoff is backed by our 100% unconditional, lifetime guarantee.
If for any reason you are not satisfied with Fur-Zoff and want to return it, simply contact us at info@furzoff.net and we will refund your purchase price.
Go ahead and give Fur-Zoff a try! We know you are going to love it.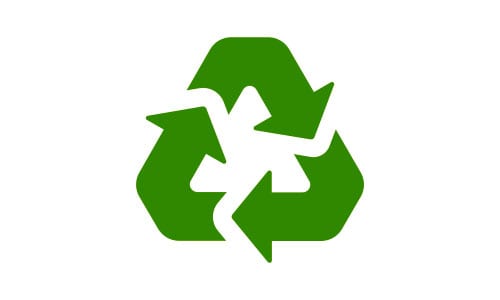 Earth Friendly +
Fur-Zoff is made from 90% post-consumer recycled materials (the stuff you put into your curbside recycling box).
Hypoallergenic
Odor-free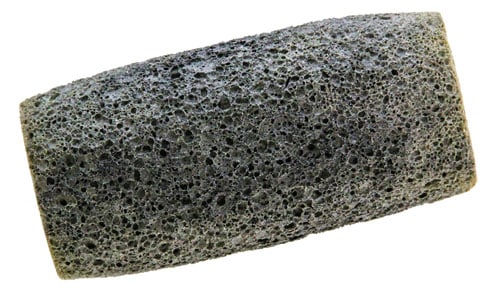 Specs
Approx. Size: 5"x3"x1 1/2"
Color: Grey
Material: Glass
Weight: ~ 4 oz.
"I ordered 2 Fur-Zoff three months ago and they are still working fine. Your product is the greatest hair removal item I have ever used and I count it as a miracle in my 2 dog household. The first couple of weeks after I got them, I worked on every carpet in the house. I couldn't believe the amount of dog hair that I ended up with!!! My 2-year-old granddaughter sits with one and "helps" me so it's a fun "bonding" experience we share as she doesn't know it's work! I was just so frustrated with all the dog hair on my carpets and rugs that I went on the internet one day and read numerous ads. I had tried just about everything and the items tended to be expensive and/or just plain didn't work.
Thank you for making the Fur-Zoff and I am positive I will be ordering more in the future."
If you have pets that shed, Fur-Zoff is for you!
Fur-Zoff removes pet hair from fabric and carpet like nothing else.
Whether it's your car, your couch, your clothing, or bed…whatever fabric your pet leaves its hair on, Fur-Zoff will remove it.
It only takes a light sweep and the hair scale raking action of Fur-Zoff grabs and removes hair of all kinds.
In seconds you can de-fur a pillow and in a few minutes, a queen-size bedspread, the car seats, or carpet.
More effective than a vacuum or sticky roller and with nothing to constantly replace, the durable and portable Fur-Zoff is not pretty but it will become your best friend in the cleaning cabinet.
With a reasonable price and very high durability, many people buy several to leave in those places they will be used in most often.
"When people first touch Fur-Zoff they rarely believe it is glass. It sure doesn't look or feel like glass but the millions of hair scale edges on its surface clean up hair like magic and under normal use, you will never wear it out".
To clean your Fur-Zoff, simply lift the yarn of pet hair that will have collected at the edge of the Fur-Zoff and discard.
"I run a canine search and rescue team and have search dogs in my vehicle all the time. When I saw how fast and easily the Fur-Zoff cleared the hair out of the back of my Suburban I had to have one."
"I have a weight belt which is attached by Velcro to my ankle so I can do leg lifts. Over the years the Velcro became so clogged full of lint and pet hair it wouldn't remain closed, so the belt kept falling off. I stroked it with my Fur-Zoff, and it cleaned right up in a few minutes and now holds tight again."
"Dressing for a holiday party I pulled out my full length crushed velvet party dress and found it covered in lint and other dusty closet things. I started trying to clean it with tape but it just wasn't working. Then I remembered the Fur-Zoff. I took one giant sweep down the dress and it was like a snow plow through freshly fallen snow! The dress was ready to wear in a few minutes! WOW! Now I keep my Fur-Zoff on the closet shelf ready at all times. Thanks for a great product."
"Once I had my own home to clean, I noticed how much fur my loving pets left behind on my furniture, bedding, and car seats. I tried Fur-Zoff on my down comforter and was blown away! I could not believe my eyes when I cleaned both sides of a very furry comforter in 5 minutes or less."
"Just a quick note in regards to Fur-Zoff. We have a dog and cat in our house and pet hair usually clings to our microfiber sofa. I used Fur-Zoff as you had instructed, long easy strokes, and it worked excellent. The key is not to push hard and to continue the long strokes. We will be using your product now rather than the role of tape or the vacuum cleaner we had been using."
Buy one or two for yourself.
Keep one inside your home and one in your vehicle.
Makes a great gift to give a pet owner too.